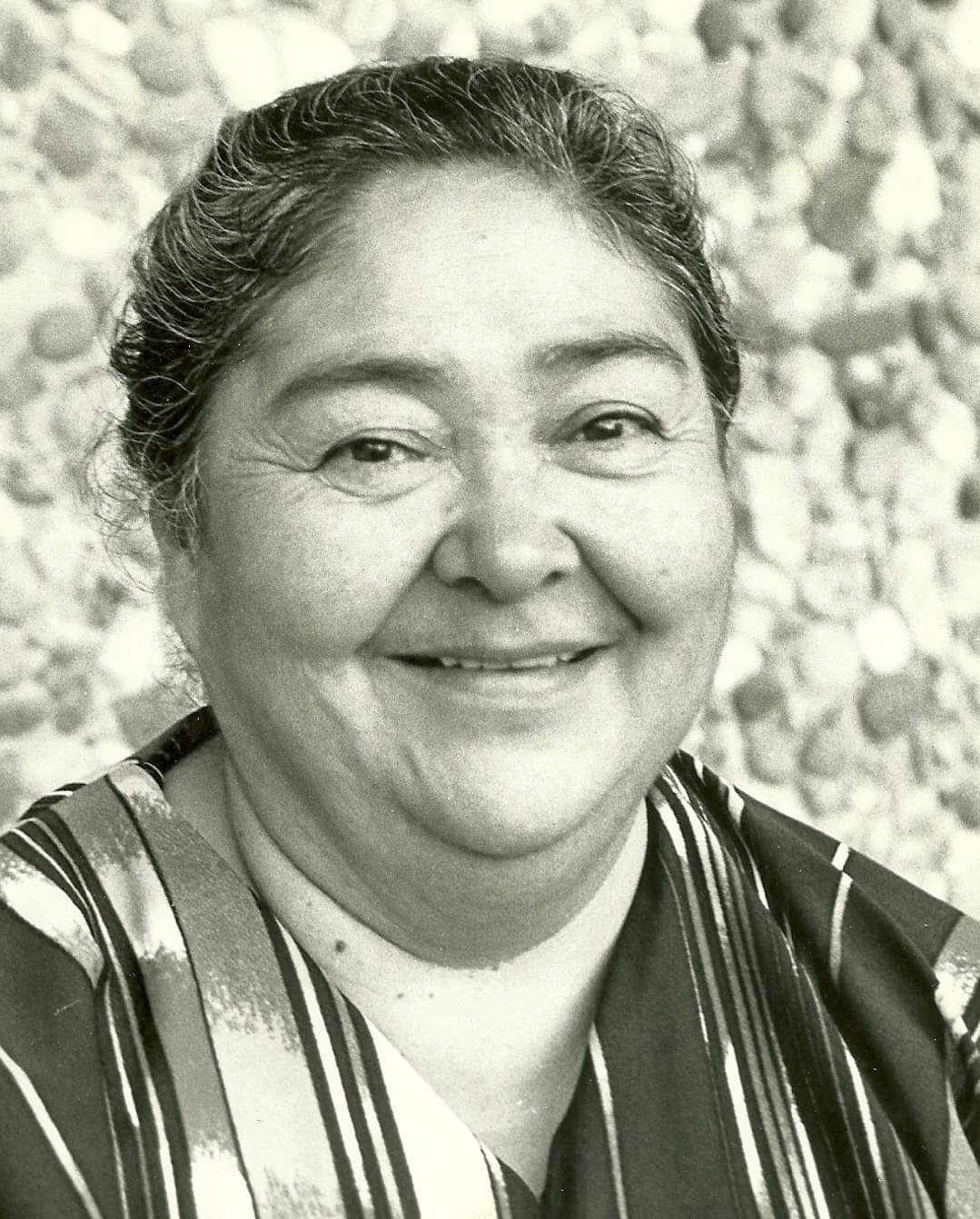 In Memory Of
Martha Demientieff
Everyone knew Martha Demientieff. She was a class act. Claude and Martha ran the famous, family barge company on the Yukon. It was the most exciting thing of the summer to see the barge coming into every village, the entire town would run to the barge landing to meet them. They sold things on the barge, brought groceries, building material, vehicles, all the supplies everyone waited all winter for. Martha was always smiling, greeted every person with a big hug and sincerely enjoyed quick visits with everyone in fishcamps and villages. She treated everyone with kindness and love, she made you feel special. She was loved by everyone. People still sit on the banks today reminiscing about the old days, when the Demientieff's Barge was chugging down the river, loaded three stacks high of treasures, water over the deck, with Martha waving with her children on top the wheel house. She was definitely our Yukon Queen.

MARTHA DEMIENTIEFF, 1933-2004

Before his untimely death in 2018, Claude Demientieff, Jr. of Nenana and I met in his home in 2004, a year after his mother, Martha Aucoin Demientieff, died. While growing up, Claude's parents f'irst priority had been to keep their family together and to serve their communities. Loved by many, Martha had interviewed with me several times during her later years. (I'd first encountered the Demientieff Barge Service when we canoed the Yukon and Innoko rivers in 1975.) The following is Martha's story as told and edited by Claude, Jr.
-`Judy Ferguson

CLAUDE DEMIENTIEFF REMEMBERED HIS MOTHER, MARTHA DEMIENTIEFF, TRUE MOTHER TO MANY

My mother, Martha Rose Aucoin, was born in a barabara, a traditional sod-walled house, in the village of Kanatak on the Alaska Peninsula February 17, 1933. Her parents were Katia Andrei of Chignik and William "Scotty" Aucoin, a trapper and fisherman from Portland, Maine.
Nicknamed "Malfa," my mother and her siblings lost their mother when she drowned in a bore tide at the mouth of the Susitna River.
My mother and her brother and two sisters were sent to Holy Cross Mission where they were raised by Sisters of St. Anne and by the Jesuits. When she and her younger siblings got lonely, sometimes they crawled into bed together. She knew some Slavonian from her Russian Orthodox upbringing, but at Holy Cross, she learned Latin. Once when she was showing me a 1910 photograph of the mission's fields, she commented wryly, "I planted and weeded every square inch of it." She added, "We didn't eat well there, but the mission gave us all that they had."
Mom met Dad in Holy Cross. It was love at first sight when she saw him with his curly hair, dimple in his chin and his oh-so-handsome World War II uniform. When she was only sixteen, on December 29, 1949, she married Claude Demientieff in Holy Cross at -60F. She was elated but was scared to leave the mission forever with this village boy. Later Mom said often, "There was nothing my husband couldn't do. He was a golden man. And he was afraid of nothing."
After I was born, my folks trapped outside of Flat. Dad began following the heavy-equipment trade, which kept him away. Once, on a trip home from the DEW Line, he was stunned when my younger sister Ramona didn't recognize him. "That's it," my folks decided. Family was everything. They had to think of another way to make a living. During the 1940s, our uncle Nick Demientieff had run a barge based out of Nenana and Fairbanks. My parents took out a small-business loan to build their own barge. Dad reasoned, "If it doesn't work out, I can always go back to trapping, hunting, and fishing." That gave him the courage to take a risk.
In 1960, Dad built a boat hull in a cousin's yard in Fairbanks. Ramona drilled screws into the wood, and I daubed in the caulking. Our folks planned to run a boat store to the villages. Mom began stocking groceries and dry goods. With the little money she had left from the loan, she bought penny candy and sold it for twenty-five cents a sack. The round, blue balls of Sputnik bubblegum were the favorite.
With our tugboat and a sixty-foot wooden, covered barge with a store inside, we began selling goods to the villages. By the time we got to Kaltag, we had to return to restock the groceries. People began asking us if we would also carry big stuff for them. In late fall, winter was coming on and we needed to stop for the season. Our Lady of Snows Mission at Nulato had a good school [run by the Sisters of St. Ann from 1899 to 1983]. We kids enrolled. We rented a two-story house and moved our store onto the first floor while we lived upstairs. We wintered our tugboat in nearby Mukluk Slough.
That spring, a huge ice jam backed the Yukon River up into Nulato. People cut trails through the ice to get to their homes. By then, we were living back in the store on our barge. The water lifted the frame houses, flooded outhouses, and silted in the heavier log homes.
Later, after the adults cleaned their houses, bleached them, and moved back in, a mysterious sickness began to strike the babies under ten months old. In the downriver villages, eleven babies suddenly died. The villages had no phone service, only an erratic radio-telephone. People could not afford to go into town. Once, while we were up at the cemetery, another baby died down in the village. It was really scary. Mom figured that the crawling babies must have gotten sick from something still between the cabin floorboards.
Even after we left to go upriver on the barge, Dad got sick from the epidemic. We got him to the doctor at Galena, who said that Dad had hepatitis and it looked like he might die. Mom and we kids were quarantined while Dad stayed in the hospital. We had to throw away all our perishables, and Dad could not be moved. After a few weeks, we were almost broke. In Galena, Dad got better but he still could not travel. Mom decided we must get downriver to trade. I was only ten, but for the first time, I piloted the tugboat alone, alternating with a hired man. Mom was tense, but we made it.
There were several times when we were asked to make one last freighting trip that our barge got iced into the Yukon River. One spring in the middle of breakup, I remember Dad firing up the tugboat and going out with me into the main Yukon River. I was scared and little, and I'll never forget him dodging those big chunks of hard ice to save our barge. During one of those freezeups, we lost our covered wooden barge in the "canyon," thirty-five miles above the village of Tanana, in a very swift, twenty-mile stretch faced by high bluffs.
As Demientieff Barge Service, we both freighted and chartered. When the Environmental Protection Agency forced the CAA [Civil Aeronautics Authority, forerunner to the FAA] to upgrade their fuel storage tanks, they offered Dad their old steel barge-like bins if he would excavate them. Dad did, but he made the bins river-worthy. We widened them by eight feet, added a bow for hauling, and made a stern for the tugboat to push against. The army gave other excess tanks to the villages, which gave Dad more work to transport them.
The Molly Hootch case and the Johnson-O'Malley Act sent a lot of education funds to Bush schools. At the same time, oil exploration was going on, and we were kept very busy freighting. Yutana Barge Lines hauled the high-volume Yukon River goods. Even though we carried maximum loads, we could always spare room for one extra passenger and his needed bottle of propane. Elders always rode for free.
Mother was well matched to Dad. She could pilot the barge. But, though fully qualified, neither of them had their commercial pilot's licenses.
By the spring of 1994, we children were grown and had families of our own. Dad was seventy-one and was getting ready for another season on the river, but he wasn't feeling up to par. Mom took him to the doctor. To everyone's astonishment, he said Dad had cancer and had only weeks to live. After thirty-five years of river freighting, Dad sold his business and prepared for surgery. However, after the operation Dad only lived two more weeks.
Sometime in the late 1960s, Mom had taken a typing class. She got her GED and enrolled at the University of Alaska Fairbanks where she earned a bachelor's degree in education, which she finished with honors.
In 1992, she went on to earn a master's degree in cross-cultural education at Harvard University, where she graduated summa cum laude. She returned and taught high school in Holy Cross and started a cross-cultural consulting business teaching roughnecks and corporate executives the Native way of knowing. Nothing was impossible to my folks.
A teacher of teachers and a mother to many, Mother, whose schooling began at the bicultural Holy Cross Mission, learned what situations to ignore and when to make her words count. Of the racism we Natives encounter daily, she said, "You have to ignore it or you'll go crazy." Mom died in July 2004, at the age of seventy-one.
She was an extraordinary teacher and writer.
In 2014, Claude, Jr. memorialized her with the enclosed black and white photo.

Martha rose demientieff 2/17/33–7/28/04

within her womblike bosom she comforted me.
safely tucked under her wing I felt safe to drift free of worldly hardships.
straying, i was often called back into her swaddling comfort,
hustling like a bear cub, it was nearly a wordless summons,
back under her warm wing nest to drift safe through a feathered amniotic harbor.
while she kept building, teaching from her stitching fingers.
proud family medallions encrusted with beads hint of her decades,
her dark fearless eyes saw clearly into the future. told me what would happen beyond the timeless rivers and into the majesty of the oceans.
brave uncommon voyager, your sojourn all to brief.
now with dad she sits upon a couch of jade and furs,
no hurt nor breath of sounds disturbs their eternal rest.
she swaddles me still and always will.
in a blanket of love, rising across centuries, tides, and dangerous shallows. she protects me.
I love and miss you mom.
thank you for giving me life, guiding my crooked trail.
rest exhausted mother of children, the good lord has reversed the years to a certain home up a special river to a special lake. rest now, I will make you proud.
lay close to us here mom, on the beach with dad, i'll make fire protect you as dad taught me.
from your barabara home birth at becharof lake to the sandy beaches of reindeer lake, your children and students remember your mountain of brilliant teachings and will carry on to quench the thirst of new students. welding earth and creatures,
into one vast breath, one with you in thought and purpose.
         ~Claude Demientieff, Jr.

For more, please see Windows to the Land, An Alaska Native Story Vol. One: Alaska Native Land Claims Trailblazers, available as an eBook also.
Copyright Judy Ferguson. 2013

Photo courtesy of Claude Demientieff, Jr.

Family and friends are encouraged to donate to the basket honoring Martha Demientieff, whose family was connected particularly to Nenana and Holy Cross. The Grandma baskets will be sold in a silent auction at mygrandmashouseak.org event June 7th , 5 PM at the David Salmon Tribal Hall to raise funds for Cynthia Erickson and My Grandma's House kids' caravan Fairbanks-Northway-Nenana, June 7-14th. Please contact Cynthia Erickson or Deanna Houlton.